Can't Say "I Do" Without You
explore our Bridal Party Gift Boxes
When you've locked down the love of your life and you're sporting that shiny sign of a wedding-to-be on your finger, it's time to ask one of the most important questions in any friendship: will you be my bridesmaid? Luckily, we have bridal party gift boxes perfectly crafted for this moment.
You're about to be a blushing bride and you have to have your besties by your side to do it. Show your girls how much you love them with the beautifully appointed Blush Gift Box. It's all about pampering in this box with the deep moisturizing Pearl skin mask from LAPCOS and the balmy Island Coconut lip scrub from Poppy & Pout. But the luxurious beauty boost doesn't end there! The Paddywax Gardenia + Peonies hand cream makes dry skin a thing of the past and smells absolutely divine. Best of all, you can toast to your lifelong friendship with the Champagne Bubble candies from Sugarfina.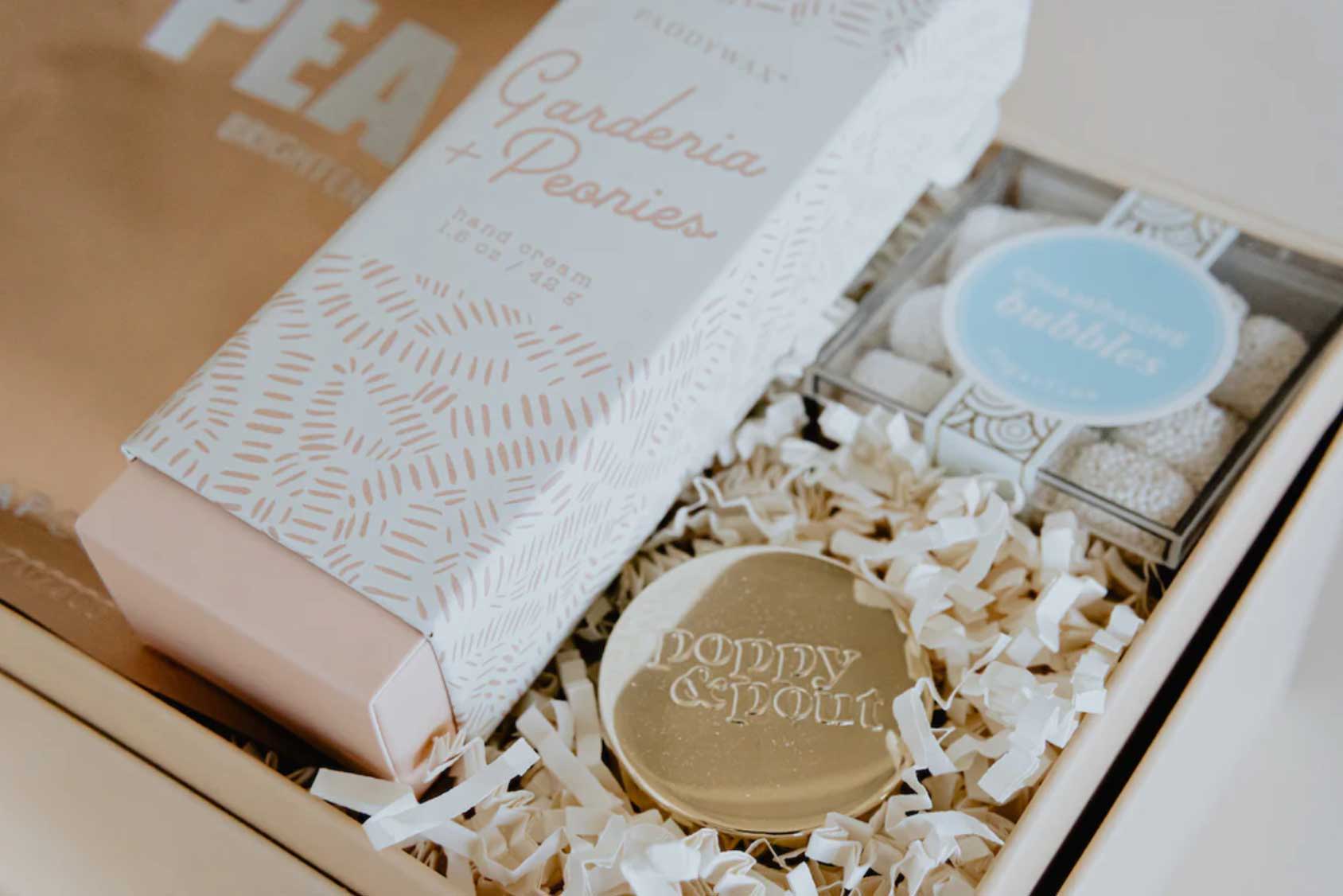 The I'm So Dulce! Gift Box
The I'm So Dulce! Gift Box is the perfect "be my bridesmaid" gift for your chic Instagram girlie, the one that's going to be snapping the amazing behind-the-scenes shots of you on the wedding day. Celebrate her effortless elegance with a cream colored silky-soft satin scrunchie from LoveLina. She can savor the deep moisturizing coconut hand cream from BARR-CO (mini sized so she can have it on hand during the ceremony!) and relax to the sweet aroma of the Pumpkin Dulce candle from Capri Blue. After such a night of pampering she'll be more than ready to stand at the altar with you.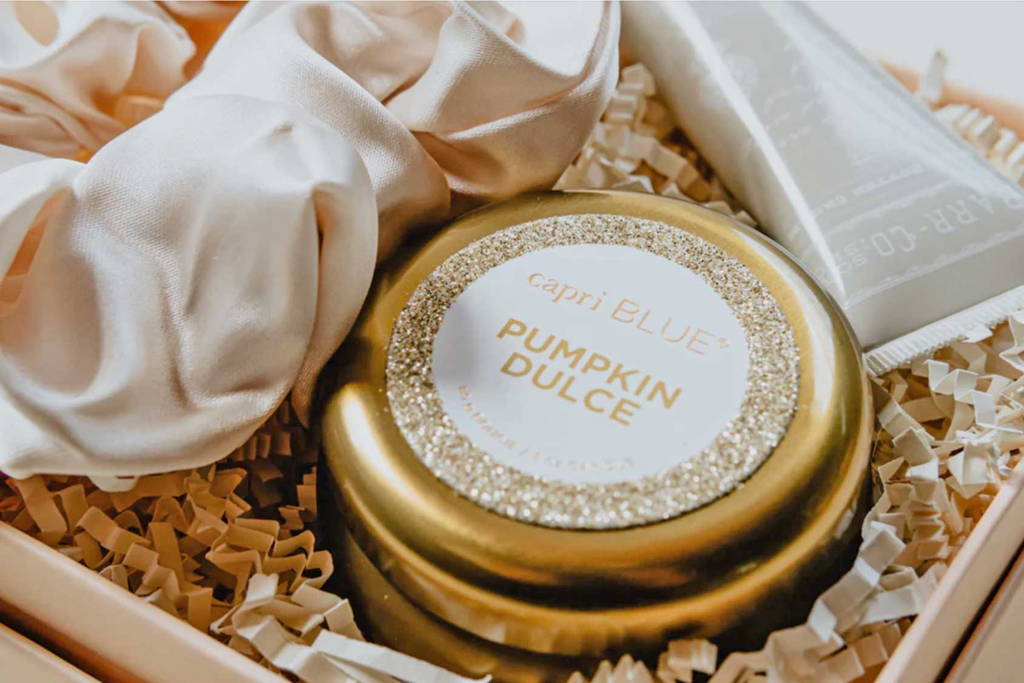 Nothing will prepare your sister soul mate for the wedding day quite like the Wildflower Gift Box. She can primp to look and feel her best with the soothing and hydrating honey face mask from LAPCOS and pull back her hair for makeup application with a beautiful, minimalistic gold claw clip from KITSCH. While you're all getting ready for the big moment, she can toast the bride with a little bubbly in her floral and cream stemless wine cup from Corkcicle.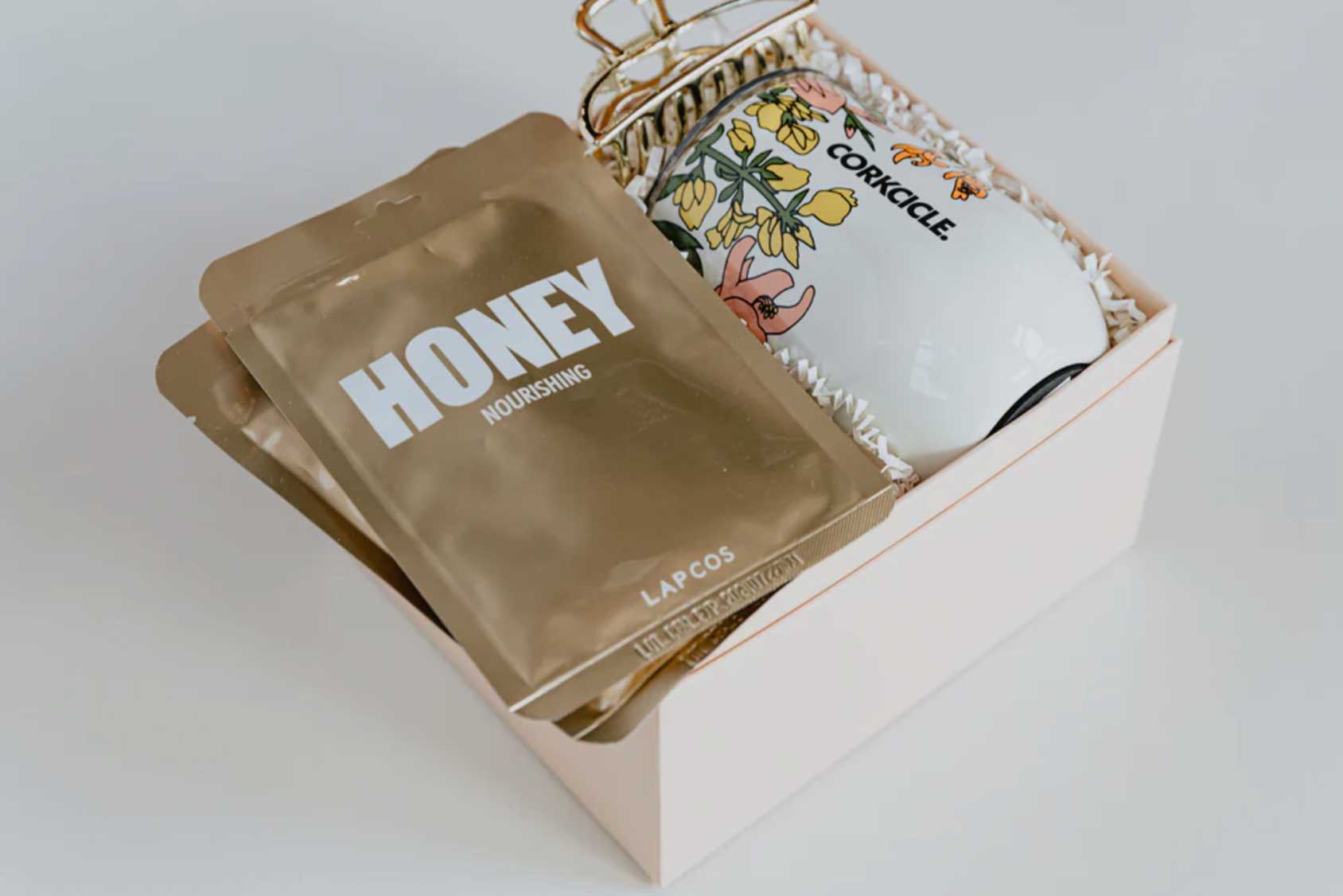 Go Custom with a Personalized PEACHBox
You've got enough on your plate planning the wedding of the century; let us take care of pampering your bridesmaids! If you want to make your bridesmaid proposals extra special, customize them to each of your best friends' tastes. Our Personalized PEACHBOX service makes it easy to say "I do" to products your bridal party will swoon over.
We focus on removing the work and stress from gifting so that you can focus on celebrating the moment.

PEACHBOX CO. is a Latina-owned company from Boston, Massachusetts. Our love for urban luxury products, and our obsession for effortless gifting, are at the core of what we do. Nurturing strong community relationships since 2019, we now share our story with you. Our gift boxes are perfectly hand-wrapped at the PEACH-House headquarters, where we fight to reduce waste by packaging your gifts with stunning biodegradable packaging, because we love the planet as much as you! We love sourcing products that are ethically manufactured, and our gift collections are consistently practical, elegant and timeless. Our customers care about their health and wellbeing, and we answer that need by carrying delicious vegan foods and dairy/gluten-free products low in sugar and yet delicious! Let us take care of all the individual details for you. Our gift packages are shipped full of love and ready to surprise and delight every time.


Thank you for being a part of our story-stay peachy!

- PEACHBOX CO. Team