Finding The Perfect Graduation Gift
ARE YOU READY TO CELEBRATE THE GRADS IN YOUR LIFE?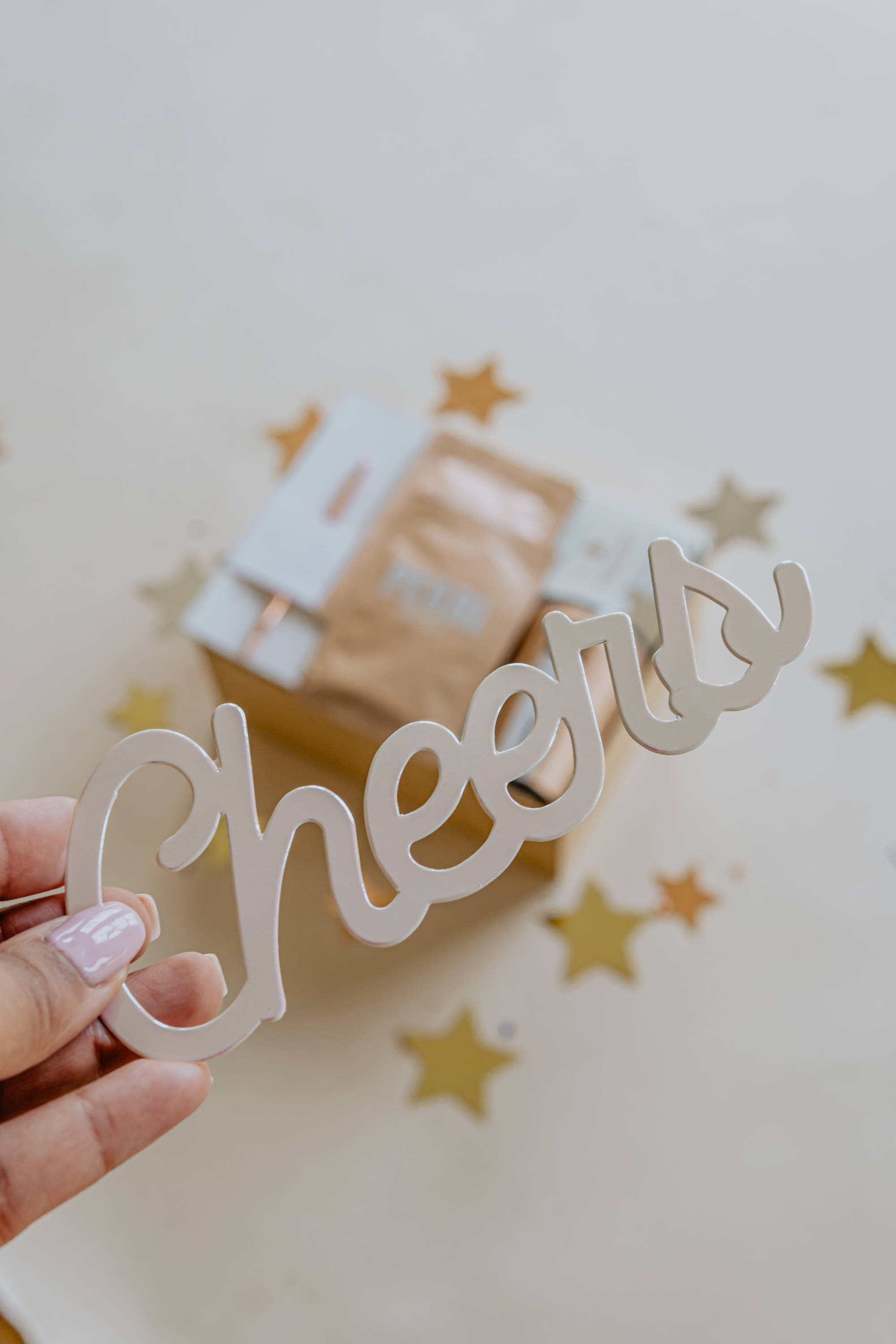 Congrats to the graduate! This time of year offers the opportunity to celebrate students of all education levels. For the past two years, staying motivated to finish school despite a myriad of challenges has proved challenging. Fortunately for many, brighter days are ahead. Most will be entering the workforce or moving on to higher education as the pandemic that's plagued society for the past year begins to lift, which in itself is something to celebrate!
To recognize their achievement, send them a PEACHBOX to show just how proud of them you are. Here are our 4 go-to PEACHBOX graduation gifts.
Do you know a graduate who brings a lot of sparkle and shine wherever they go? If so, we've got the perfect box to send them. This box dresses up any desk or study space that the person may have after graduation. Whether they're continuing their education or heading into the workforce, this gift box includes a holographic notebook, stemless Corkcicle wine cup, Pinch Provisions holographic errand kit, Compartes cookie butter, and a gold slim pen. Who says that adulting has to be boring?! This box makes it cute and colorful.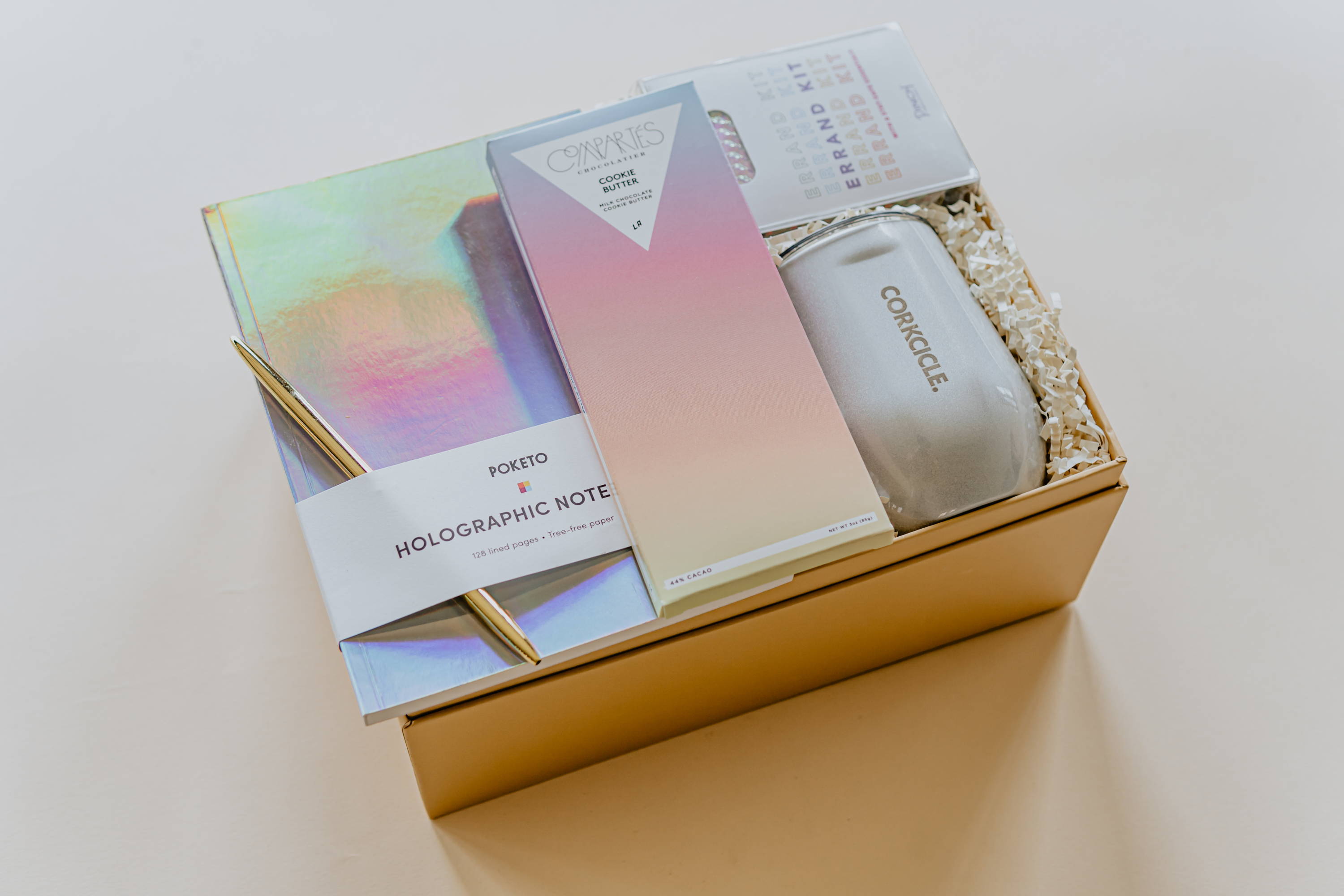 ---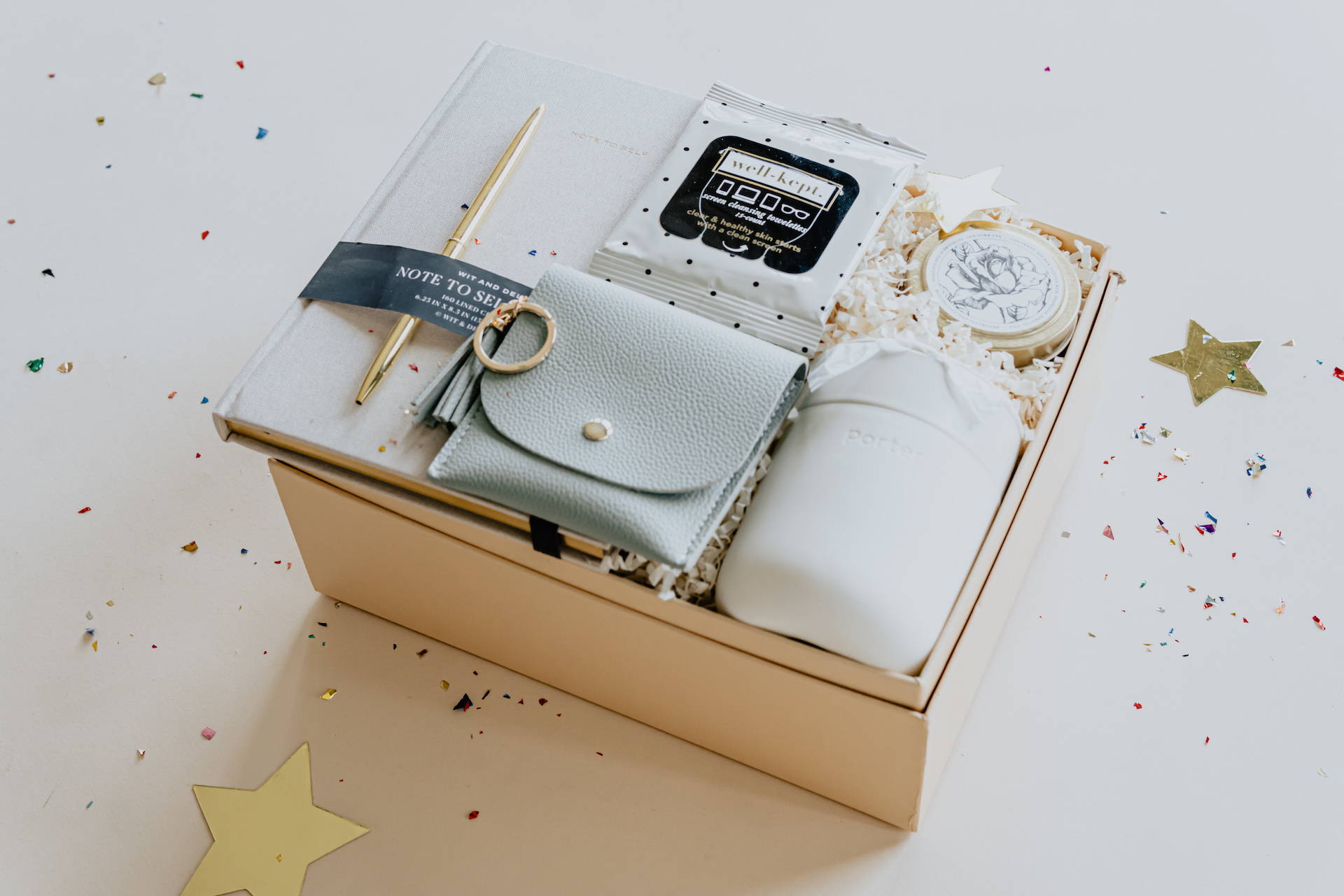 Did your favorite graduate just get the job of their dreams? Send them the "Desk Goals" box! This box includes the W&P Porter Mug in Cream, Wit & Delight journal, Lark & Ives card purse, screen cleansing towelettes, rose botanica gold travel candle by Brooklyn Candle Studio, and a gold slim pen. They're the perfect accessories for anyone who's about to get serious about a new profession and wants to add a little bit of style to their new workspace.
---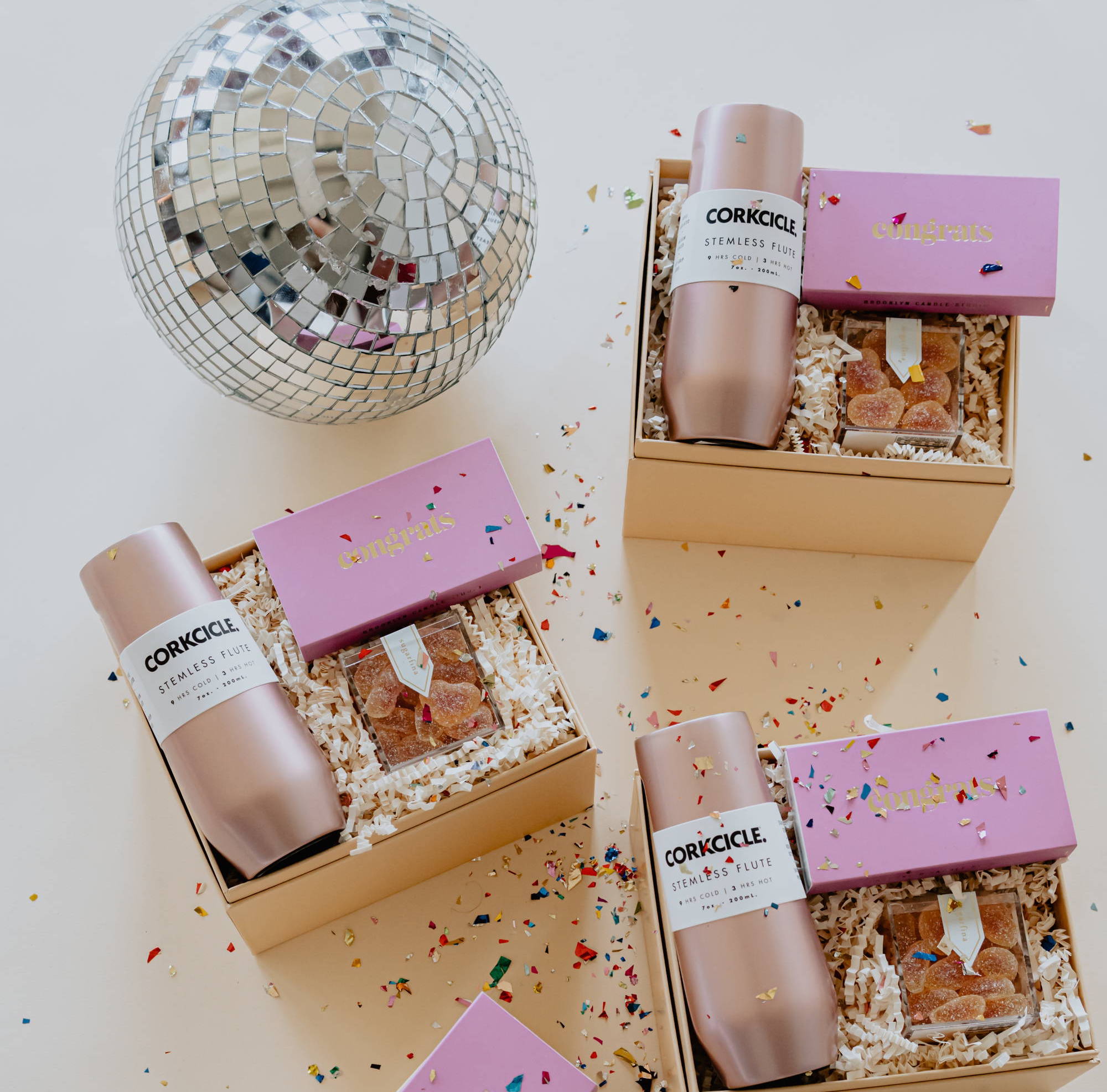 A lot of people are celebrating graduates from a distance this year. If you're sending your congratulations through the mail, consider sending a PEACHBOX. Our "Congrats" box is one of the best ways to toast your graduate across the country (or world!). Here's what it includes: a stemless Corkcicle flute in sparkle pink, Brooklyn candle studio statement matches, and a Sugarfina "You're a Peach" candy cube. It's far more creative than flowers and lets the graduate know that you're thinking about them on their special day.
---
Aptly named, The Grad box is filled with a Corkcicle stemless black tumbler, Public-Supply embossed journal, Sugarfina sparkle pops, Compartes Chocolates, and Wellspring pen. It's a box fill with useful yet celebratory items. If you're not sure how to let someone know that you're proud of their accomplishment, this is an easy box to send! Between the little trinkets and treats, they'll definitely feel the love on their special day!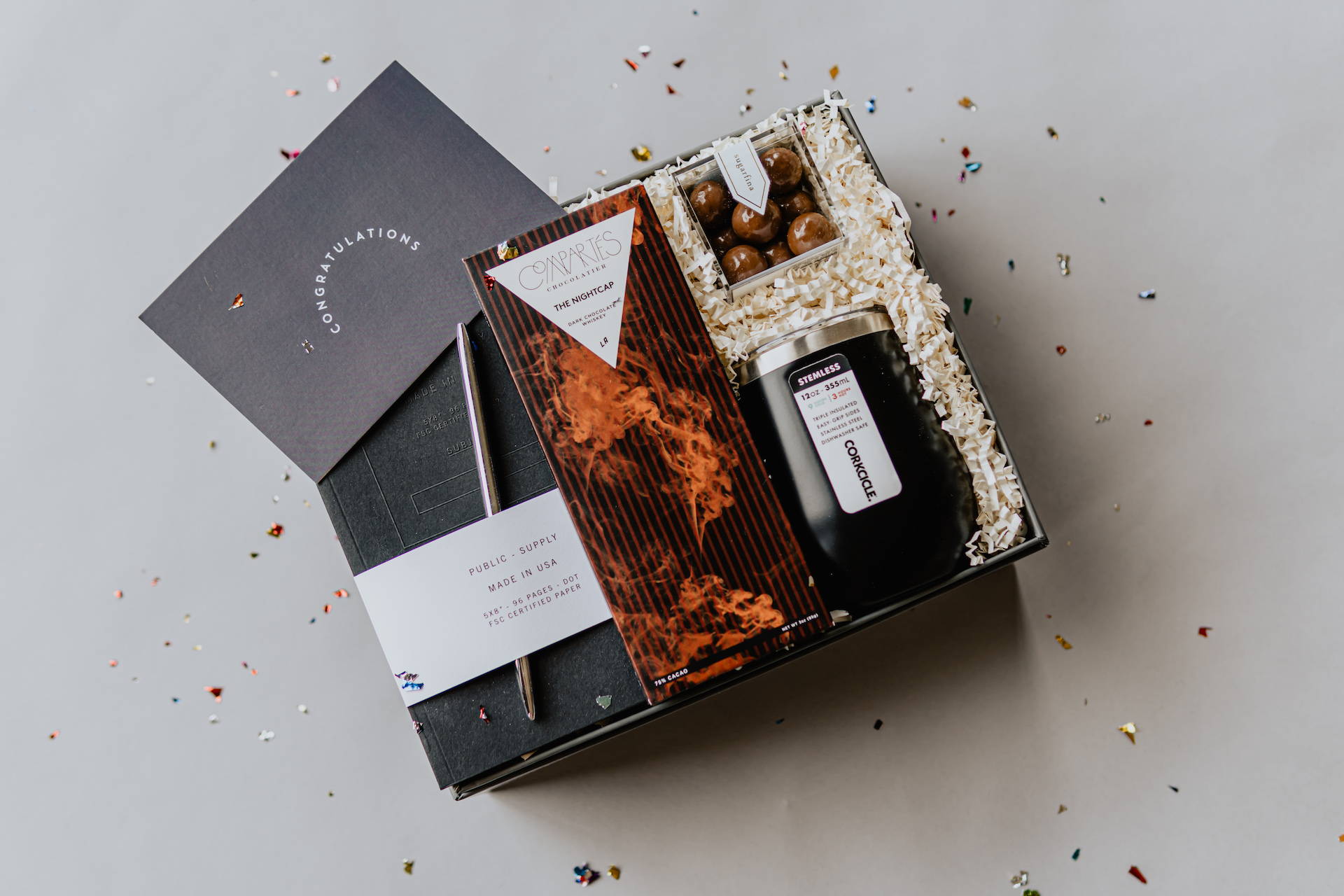 ---

The graduation boxes in our collection are aimed to be practical and functional in addition to cute and personalized. Celebrate with them by sending a PEACHBOX to their doorstep making them feel special as they walk to receive their diploma.
Check out the entire collection here!
---